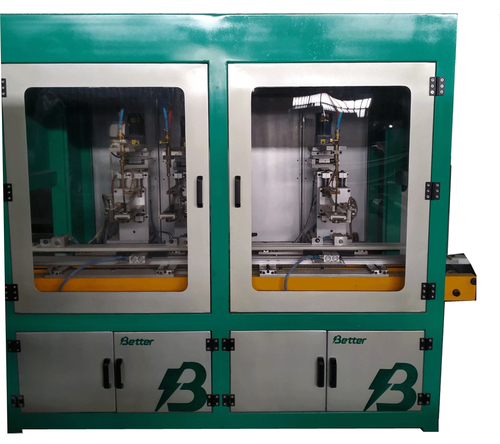 Product Description
Application: For welding the terminals for 36Ah-200Ah batteries.
Operation: The battery will be positioned automatically by the photoelectric sensor. The machine head will descend and the mold will clamp the terminals, the flame will weld the terminals, after reaching the setting time, the fire will close automatically. The mold will release and the machine head will go up. The conveyor will transfer the battery to the next process.
Feature: PLC and HMI control, it adopts flame lighter for welding. The automatic switch will control the valves for welding.
Production Capacity: 1200pcs batteries / 8 hours
Power Supply: AC380V, 50HZ, 2KW
Energy Consumption: Oxygen 0.5MPa, natural gas 0.1MPa
Cooling Water: Connected by the user, water is circulated, water temperature is controlled by the temperature meter, if water temperature is too high, the machine will alarm; water pressure: 0.5Mpa
Air Source: 0.1m3/min, 0.6Mpa
Dimension (L*W*H): 1500*1200*2200mm
Weight: 800Kg
Main Configuration: A3 steel frame, Mitsubishi PLC (FX3GA-60MR), Mitsubishi HMI, AirTAC pneumatic components, Schneider low voltage electric appliance, etc.
Free Spare Parts: 1pc photoelectric switch, 1pc magnetic switch
Other Products in 'Battery Assembly Line Equipments' category
Get in touch with us