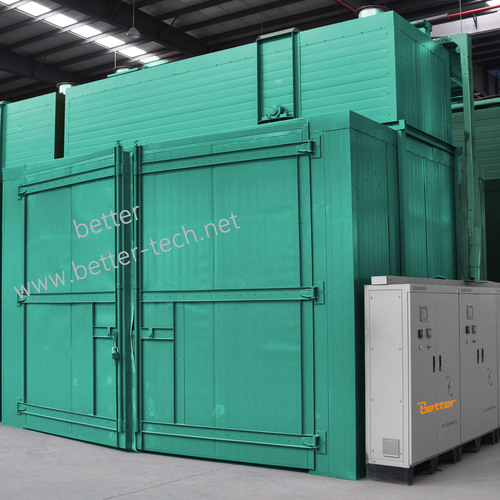 Product Description
Technical Performance:
The process of both curing and drying can be completed together but also can be independently.

The imported temperature and moisture converter is high temperature resistance, anti-mist, dust-proof, with long service life.
PLC control, touch screen control panel, with programmable functions, can be pre-stored 20 different sets of process parameters, each composed of up to 10 segments, maximum execution time 999 minutes.
Two humidification ways: atomized water and steam spraying, which can be automatically switched over according to actual temperature or user's specific requirements.
The circulating air system adopts the three-dimensional air distribution methods;
Select drum-type

low speed circulating

frequency modulation

fan

and

specialized moisture-

reducing

fan

.

The moisture

and temperature will be in

uniform throughout the

curing

room

. After

drying and

curing,

physical and chemical indicators of the plates is in good consistency.

T

emperature

deviation:

1.5

,

moisture

deviation

3% RH.
Electric heating: Use stainless steel heating pipes, the heating temperature can be controlled by controlling the heating working frequency, which is easy to control and with high precision. Material is stainless steel, with long service life.
With the alarm function for fan circuit malfunction, over temperature limit, pressure detection. With three alarm modes of sound, light and text notice, and reminding the operator how to deal with the malfunction.
Curing chamber: inner wall is made of stainless steel, outside is color plate, sandwiching is polyurethane for heat preservation.
Independent set of atomizing chamber, ensuring the drops will not splash on the plate.
Technical Parameters:
Control range
Curing stage: Temperature: room temperature to 75, Moisture: above 95
Drying stage: Temperature: room temperature to 80, Moisture: below 10
Control accuracy
Temperature: setting value +1
Curing moisture: setting value +2-RH
Process conversion rate
Temperature: 3 minutes
Moisture:2…RH /3 minutes
Breakage Testing Device: when the heater is broken and cannot continue to heat up, the system will alarm and display that the heater is damaged and cannot heat up.
Current Testing Device: when the solid-state relay has short circuit and continue to heat up, the testing device will alarm and display that the solid-state relay is damaged, and stop heating up.
Other Products in 'Plate Making Equipments' category
Get in touch with us