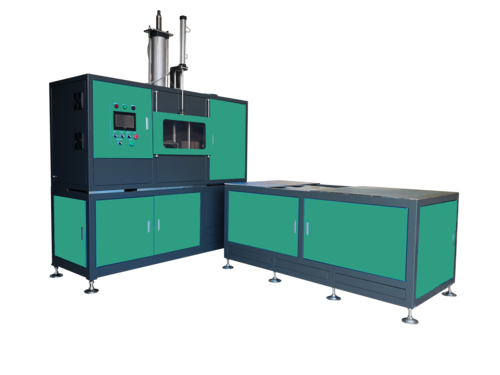 Product Description
Application: Used for lug cutting and brushing, and cast on strap for small size Lead acid battery.
Functional characteristics

The machine adopts water spray cooling mode at the bottom of the mould, which has a fast cooling rate. The handle type casting and welding bottom mould design is adopted. As the mould does not need to connect the water pipe, the replacement of mould only needs to change a template, does not need to disassemble and assemble the screw, greatly shortens the mould replacement time.
The cooling water of the machine can be directly used with tap water, and there is no need to use deionized neutral water, which greatly reduces the cost of water use.
It adpots PLC, industrial grade man-machine interface (touch screen) control, high degree of automation, simple operation, convenient, with digital cumulative output function, convenient management; in case of failure, the equipment will immediately sound and light alarm, and show prompt processing method on the display screen by graphics and text .
Technical parameter
Production efficiency:

More than 65 modules per hour (taking 12V7AH as an example, one mould come out two batteries design, more than 130 batteries per hour, need 3 people to operate a set of machines, or 5 people to operate two sets of machines)
Scope of application: 4V , 6V or 12V from 2AH to 25AH
Qualified rate of battery casting on strap: 97%
Shape size: L: 1800mm * W: 650mm * H 2760mm
Input power supply: three-phase five-wire 380VAC,50 Hz; Total power: 18.5KW (maximum)
Input air source 0.50.8Mpa
Air consumption: 0.4m3/min
Water consumption: 2035L/min
Environmental protection exhaust pipe interface outer diameter: 110/220mm (interface outer diameter can be configured according to customer requirements)
Suitable battery grid range:
Lead antimony alloy grid
Lead-calcium multivariate alloy grid
Lead furnace temperature: digital setting display at room temperature - 600
Other Products in 'Battery Assembly Line Equipments' category
Get in touch with us