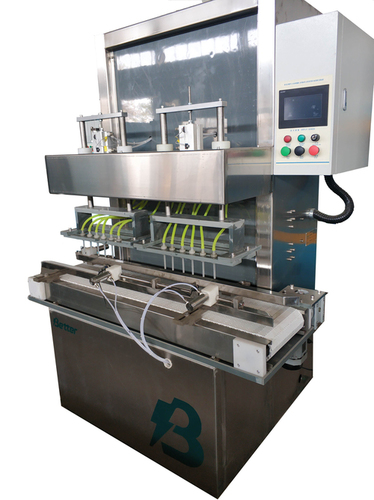 Product Description
Operation: It requires adjusting the guiding bar width and machine head height when changing different battery models. Adjust the filling nozzles to appropriate position, the adjustment is easy and stable, easy to operate. After confirming the battery model, pre-set the acid volume via the touch screen, the machine will adjust the acid amount automatically by digital control lifting. The battery will be conveyed and positioned automatically, the machine will do the filling; after acid filling, the battery will go into the acid suction station, the nozzles will descend and suck out the acid until the acid level is same, and the finished batteries will be output automatically.

Feature: Digital ration, automatic lifting to adjust the measuring cylinder by rotary encoder; acid leveling method: by negative pressure, this machine has the function of checking each cell's acid volume.

Dimension: 1500 x 1000 x 2200mm
Weight: 700Kg
Production Capacity:
Electric Power
Air Source
Main Component: SUS frame, PP conveyor belt, Mitsubishi PLC, Delta touch screen, KOYO rotary encoder, pneumatic components, etc.
Other Products in 'Battery Finishing Line Equipments' category
Get in touch with us